Research/Dissemination Network on Canada's Rights Role in Sub-Saharan Africa (CARRISSA)
Research/Dissemination Network on Canada's Rights Role in Sub-Saharan Africa (CARRISSA)
The CARRISSA partnership is allowing our three original partners (York, NIALS and CENSOJ), their newer core partners (the University of Saskatchewan, Riara University in Kenya, the University of Pretoria in South Africa, the University of Rwanda, the Pan African Lawyers Union, and the Initiatives for Child Rights), with eleven (11) participating faculty/activists, to expand and deepen their collaboration and research/KMb/training activities regarding Canadian/African human rights engagements. We have also recruited several government agencies and NGOs who will engage with us more informally in our KMb activities (e.g. by hosting some project dissemination seminars within their offices).
CARRISSA's overarching goals are to:
(a) add to and improve, the existing knowledge regarding Canadas's human rights engagements in Africa (by producing the first directly focused and comprehensive study on this set of questions);
(b) shape the understandings and actions of policymakers/practitioners in Canada and Africa;
(c) improve public engagement with questions concerning Canada's human rights role in Africa; and
(d) train graduate students/other researchers in this area of study.
CARRISSA will focus on Canadian/African human rights engagements in relation to four sub-themes that are prioritized here because of the knowledge gaps in relation to them and their importance to both Canada and Africa. It should be kept in mind, however, that the partnership is not focused on the study of these sub-themes per se but rather on Canada's human rights role in Africa in relation to each of them.
These sub-themes will also organize our thematic research clusters (TRCs). CARRISSA's four research clusters are thus as follows:
1. Gender/Sexuality/Women's Rights
2. Democratization
3. Economic/Social Rights
4. Investment/Human Rights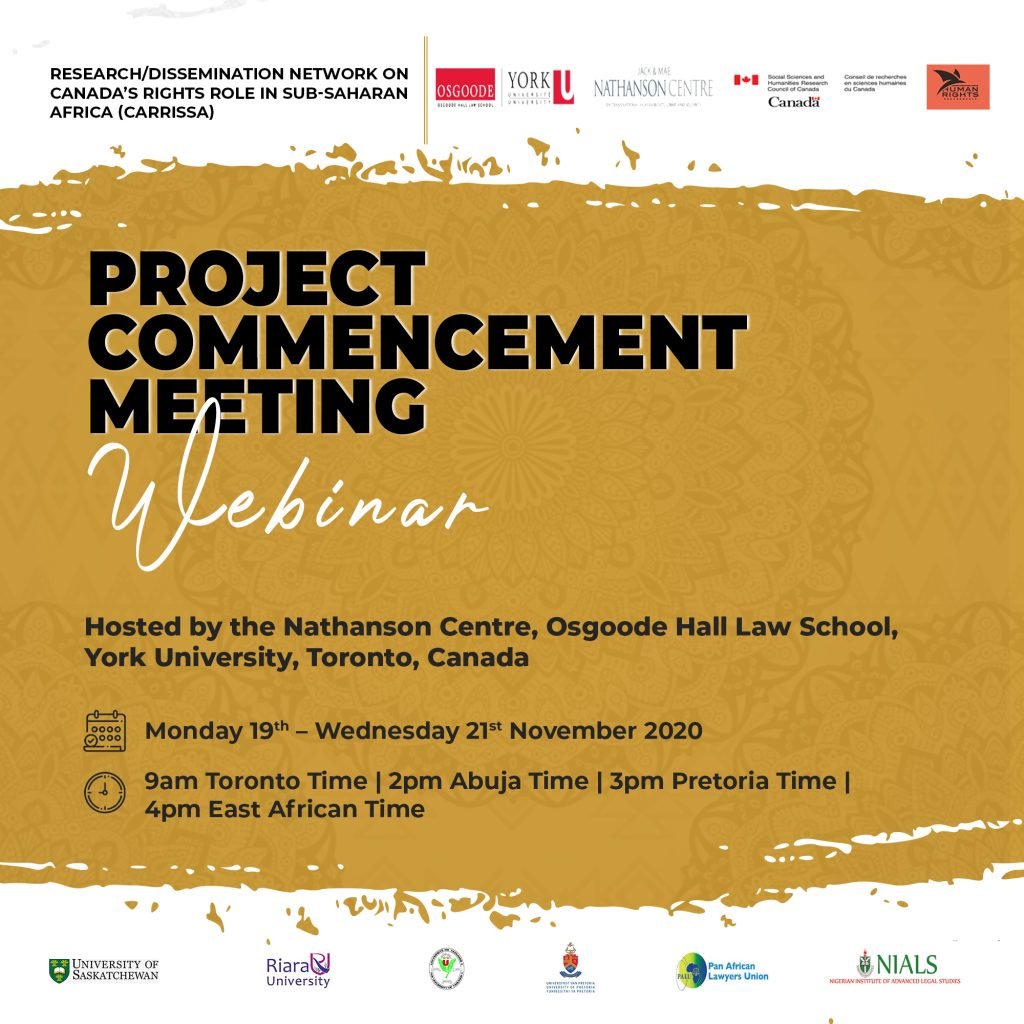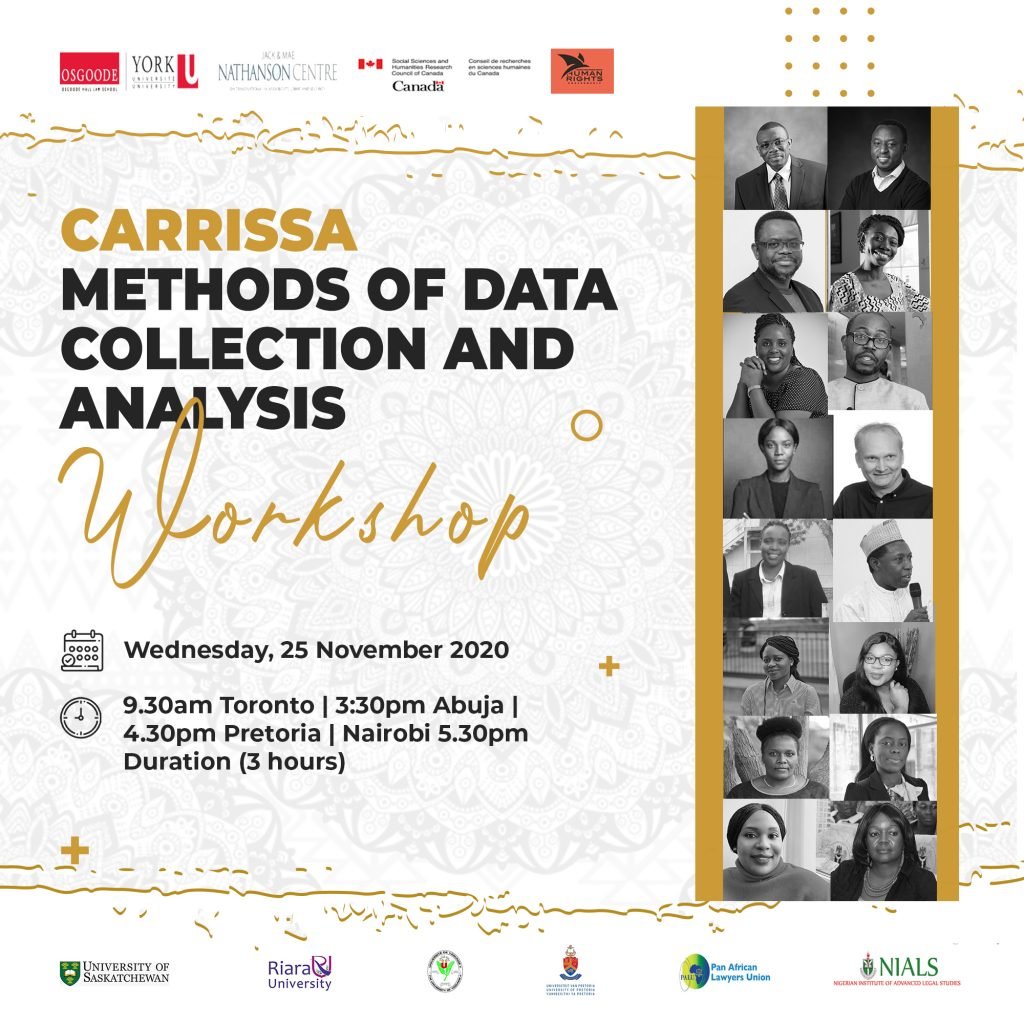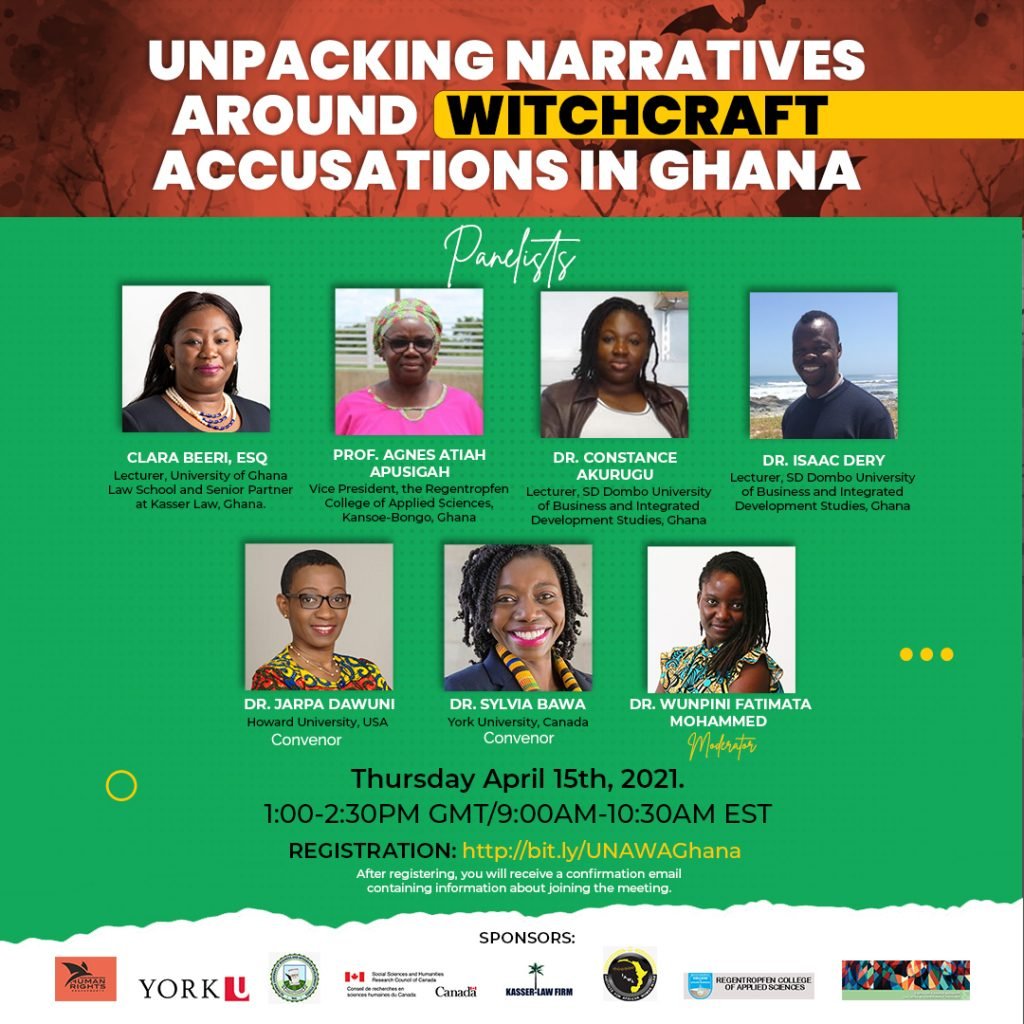 Unpacking Narratives around Witchcraft Accusations in Ghana 
Witchcraft accusations in Ghana are gendered and are part of the discrimination that women face under patriarchal systems. This webinar brings together Ghanaian scholars to discuss witchcraft accusations, witch camps and ideas to address the issue moving forward. This conversation will present a forum where the perspectives of sociologists, political scientists, anthropologists, legal scholars, and media scholars are presented on the histories and discourses around witchcraft and witchcraft accusations in Ghana. The public forum will cover topics such as the history of witchcraft accusations and witch camps, the relationship between witchcraft accusations and the patriarchy, the sociological implications of witchcraft accusations, and media narratives around witchcraft, witchcraft accusations and witch camps. The program will present the opportunity for the public to engage in this conversation with experts on the issue while discussing strategies to address the issue at the interpersonal, societal, and systemic levels.
Date:
Thursday April 15th, 2021.
Time:
1:00-2:30PM GMT/9:00AM-10:30AM EST
Registration:
After registering, you will receive a confirmation email containing information about joining the meeting.
Panelists:
Prof. Agnes Atiah Apusigah
Dr. Isaac Dery
Clara Beeri, Esq
Dr. Constance Akurugu
Moderator:
Dr. Wunpini Fatimata Mohammed
Convenor:
Dr. Sylvia Bawa