1st Partnership Development Workshop
CARRISSA Knowledge Mobilization on Gender (in collaboration with external partners)
Unpacking Narratives around Witchcraft Accusations in Ghana
[Click on the audio button above to listen the recording from this event]
Witchcraft accusations in Ghana are gendered and are part of the discrimination that women face under patriarchal systems. This webinar brings together Ghanaian scholars to discuss witchcraft accusations, witch camps and ideas to address the issue moving forward. This conversation will present a forum where the perspectives of sociologists, political scientists, anthropologists, legal scholars, and media scholars are presented on the histories and discourses around witchcraft and witchcraft accusations in Ghana. The public forum will cover topics such as the history of witchcraft accusations and witch camps, the relationship between witchcraft accusations and the patriarchy, the sociological implications of witchcraft accusations, and media narratives around witchcraft, witchcraft accusations and witch camps. The program will present the opportunity for the public to engage in this conversation with experts on the issue while discussing strategies to address the issue at the interpersonal, societal, and systemic levels.
Panellists
Prof. Agnes Atiah Apusigah, Vice President, the Regentropfen College of Applied Sciences, Kansoe-Bongo, Ghana
Dr. Isaac Dery, Lecturer, SD Dombo University of Business and Integrated Development Studies, Ghana
Clara Beeri, Esq. Lecturer, University of Ghana Law School and Senior Partner at Kasser Law, Ghana.
Dr. Constance Akurugu, Lecturer, SD Dombo University of Business and Integrated Development Studies, Ghana
Moderator: Dr. Wunpini Fatimata Mohammed, Assistant professor of global media in the College of Journalism and Mass Communication at the University of Georgia, USA
Convenors: Dr. Sylvia Bawa, York University, Canada
Dr. Jarpa Dawuni, Howard University, USA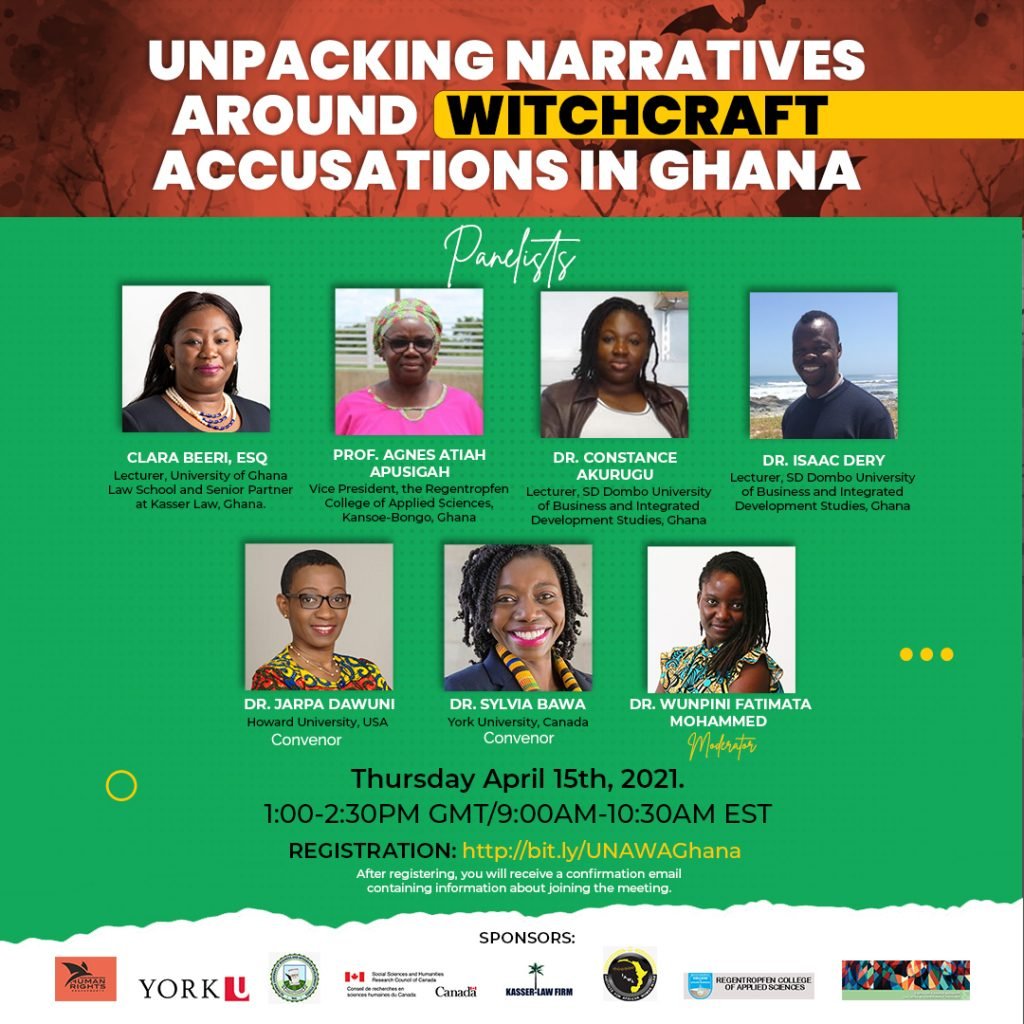 [To listen to the recording from this event, click on the audio button at the top of the page]
Unpacking Narratives around Witchcraft Accusations in Ghana
15 April 2021 @ 9:00 am – 10:30 am
Please note: 1:00pm – 2:30pm GMT
Register in advance for this meeting:
https://yorku.zoom.us/meeting/register/tJ0pceqsrTsiH9cWvpl5sswscn7k-9NxPeIy
After registering, you will receive a confirmation email containing information about joining the meeting.
Sponsors:
Centre for Feminist Research, York University (https://www.yorku.ca/cfr/)
Canada-Africa Human Rights Engagement (CARRISSA, SSHRC PDG) https://e-cassare.org/policy-brief-on-canadian-african-human-rights-engagements-literature-review-and-agenda-for-research/
Institute for African Women in Law (https://www.africanwomeninlaw.com/
Kasser Law Firm, Ghana (http://www.kasserlawonline.com/about.html)
S.D. Dombo Univ of Business and Integrated Studies, Ghana (https://ubids.edu.gh/) and
Regentropfen College of Applied Sciences, Ghana (https://recas.edu.gh/)
Professor A. Atia Apusigah is a Professor of Development Sociology and Vice President of the Regentropfen College of Applied Sciences, Kansoe-Bongo, near Bolgatanga in Ghana. She holds a PhD in Cultural Studies with Curriculum Studies from Queen's University at Kingston, Ontario, Canada. Her research is in Education, Cultural and Gender/Women Studies. She is a scholar-activist, a member of the women's movement of Ghana and active in civil society governance.
Dr. Isaac Dery is a lecturer and researcher in the Department of African and General Studies at the Simon Diedong Dombo University of Business and Integrated Development Studies, Ghana. Isaac holds a PhD in Gender Studies from the University of Cape Town, South Africa. His research interest focuses on constructions of masculinity and femininity, gender-based violence, peacebuilding, and African feminism(s). Isaac's publications have appeared in Social Science and Medicine, Journal of Interpersonal Violence, Gender, Place and Culture, NORMA, etc.
Clara Kasser-Tee is the founder and current Head of Kasser Law Firm. She is a member of the Ghana Bar Association and has publications on Oil and Gas Law, Environmental Law and Regulation, Taxation, Business Law, Institutional Assessment and Anti-Corruption. Clara Kasser-Tee graduated at the top of her class at the Ghana School of Law and is a recipient of the prestigious John Mensah Sarbah Prize given to the best overall graduating law student. She also won the award for the best student in the Law of Taxation in 2009. She is currently an editorial member of the Legon Journal of International Affairs and Diplomacy and a Board Member of the Centre for Democratic Development (CDD), among others. Clara contributes to legal education, political and institutional development through several engagements with the media and the Ghana Revenue Authority on relevant national issues. She has earned the respect and trust of the public, (including members of the judiciary, the Ghana Bar, other public and private institutions and the general public) who openly praise her in-depth knowledge of the law, and professionalism.
Dr. Constance Awinpoka Akurugu is a lecturer in sociology and gender studies. She obtained her PhD in Sociology from the Newcastle University in the UK. Dr Akurugu is interested in transnational feminist discourses and women's empowerment praxis. Her research also focuses on the cultural translation of theory and decoloniality. In terms of empirical research, Dr Akurugu is an ethnographer and focuses on gendered power relations more broadly. Specifically, she focuses on gender justice research and advocacy, gender-based violence and gendered cultural practices in Ghana and sub-Saharan Africa. Dr. Akurugu also researches on the mystical world of the ethnicities in northern Ghana, particularly, the way in which the belief in the pervasiveness of other-than-human entities such as witchcraft, magic power and the ancestors inflect human sociality in these settings. Dr Akurugu's work has been published in Feminist Theory and Feminist Review and so on.
Dr. Wunpini Fatimata Mohammed is an assistant professor of global media in the College of Journalism and Mass Communication at the University of Georgia. She is co-editor of the book "African Women in Digital Spaces: Redefining Social Movements on the Continent and in the Diaspora" (forthcoming 2021). She currently serves on the editorial board of the Communication Culture and Critique journal and serves as a board director at the West African Research Association. Her research which focuses on feminisms, decolonization and broadcast media have appeared in the Howard Journal of Communications and other reputable journals. She has worked as a radio journalist in Ghana for several years and some of her work has been published on Al Jazeera, Africa is a country, Global Voices and Okay Africa. She has appeared on several Ghanaian media platforms including the Ghana Broadcasting Corporation.